SHOP OUR UNIQUE SELECTION!
We heavily concentrate (pun intended) on thick, American and German borosilicate glass, percolated and non-percolated, as well as all the funky, heady stuff. From simple spoons and chillums to 9mm thick water pieces, dab rigs, super heady art glass and vaporizers. We've got you covered! Need help? Give us a call - (773) 697-8760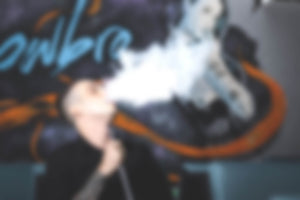 SHOP NOW
Delta 8
We sell a variety of Delta 8! Edibles, Disposables, Delta 8 bud and much more.
VISIT SMOKE STATION
FEATURED
MY BUD VASE™ STARDUST
Artist meets entrepreneur meets cannabis advocate. A coast-to-coast creative, Doreen Sullivan transforms stunning one-of-a-kind vases into smoking devices perfect for the sophisticated smoker. Whether discreet or on display, My Bud Vase™ is becoming the high-class glass solution for smoking nationwide.

"It's just like anything with art, if you love looking at the piece, you'll just keep falling more in love with it," she says. From the flower pokers used for cleaning her pieces to the beautiful additions she sends with each collectible, Sullivan is committed to the details. Marrying artistry, accessibility, and cannabis has motivated her to help close the smoking stigma gap. It's a big green world out there, and this chronic creative looks forward to making it more beautiful one 'vahz' at a time.
Learn more
Shop Online
Pick Up In-Store
Smoke Station is located in Logan Square Chicago, IL. The one-stop shop for all your smoke needs and accessories.
Need help? Give us a call - (773) 697-8760
GET DIRECTIONS
Our Customers
The design of the shop is dope!! & you realize how much other shops are ripping your off when you see the smoke station prices - they must be wholesale. Awesome place.

⭐⭐⭐⭐⭐

Chrissi Rose Hartigan
Great shop. Best prices I've seen in Chicago for good glass. Also a very wide selection and knowledge of various new and Classic devices. Dominic is super welcoming and helpful. Highly recommend!

⭐⭐⭐⭐⭐

Angela Cuadros
Prices of the glass pipes were very cheap. Dominik was very helpful, took his time with me. Got a really nice bong for only $40. This is my new spot for sure.

⭐⭐⭐⭐⭐

J C
Awesome selection and organic handcrafted cbd joints darling brand is awesome! Will definitely be back!

⭐⭐⭐⭐⭐

Robert Thomas
Great Smoke shop. Excellent line of sheesha available. Really good prices and open late. Located right by Milwaukee and Kedzie, they are really easy to get to.

⭐⭐⭐⭐⭐

Theo D
Excellent service. I bought a hookah, I am very happy with the product. Good prices.

⭐⭐⭐⭐⭐

Luciana Diaz
Amazing selection and the staff are incredibly friendly and helpful. Prices are VERY reasonable, highly recommended.

⭐⭐⭐⭐⭐

Michael Frigo
Recently bought a CUTE colorful silicone bong and I LOVE IT. Super helpful and nice employee helped this very indecisive lady make a surprisingly quick selection! definitely check out their fancy glasswork.

⭐⭐⭐⭐⭐

Sydney Veverka
I love this place! Awesome pieces sterdy. Friendly people and very laid back. The prices are perfect and affordable! Keep getting new pieces you will always have my business!

⭐⭐⭐⭐⭐

lizz Spikes